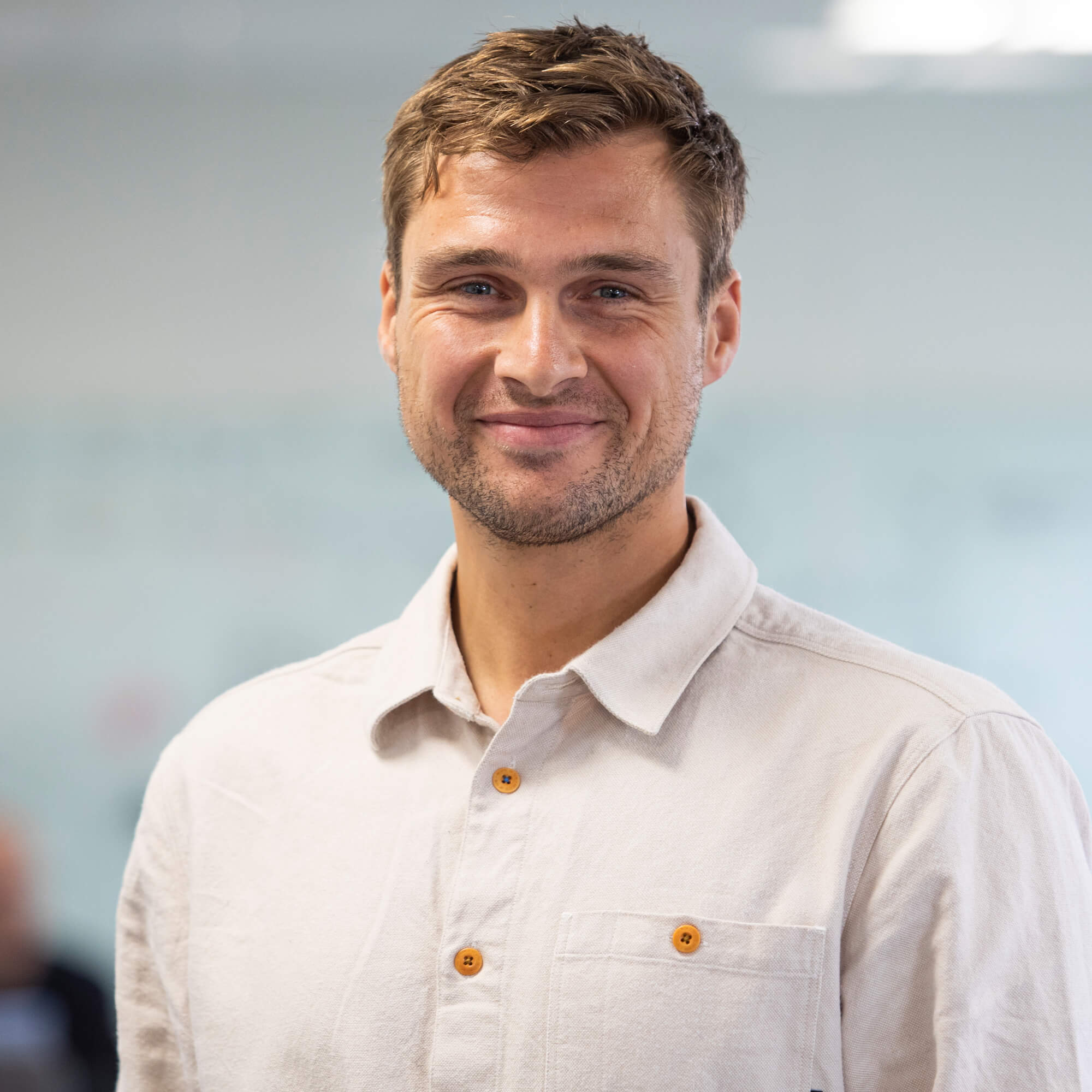 Jake Rowland-Crosby
Project Engineer (BEng, AMIMarEST)
Education and professional background
Since joining Tadek in 2019, Jake has become an integral team member, regularly leading the Project Engineering for various work scopes, attending On Site and Vessel to ensure safe and efficient execution of scopes.  He has worked on numerous scopes including, Floating Offshore Wind Turbine installations, Tidal & Wave Energy Device installations, Cable Pull-Ins and Shore Landings, Towing Operations, Cable Trenching in shallow water and Heavy Lifts.    
His first-class BEng from University of Plymouth, and industrial placement at wave energy company, Wavepower, gave him a solid understanding of the challenges of the marine environment.  
Jake is certified with BOSIET, Offshore Medical OG-UK. 
Jake's expertise
Jake is a proven team player, and natural collaborator. He excels at communication and presentation, with a proven track record liaising with the full range of project stakeholders, from project manager to client, vessel, ROV, fabricators, discipline engineers, and equipment suppliers. Jake delivers exceptional results, developing project solutions, and translating complex analysis, simulation and engineering deliverables into pragmatic, concise, high-quality operational documentation for operational personnel.  
Jake attends On Site as the technical authority and ensures the engineering is seen through into the operations, taking an active role with personnel, remaining accessible to explain decisions, processes and to change or record as required. He interfaces with Foremen, Riggers, Supervisors, Masters and Managers with delivery of exceptional documentation and engineering support. Get in touch to talk to Jake about:
Tow & Hook-Up Operations for Floating Structures, Barges and Floating Offshore Wind Turbine

Cable Shore Landings and Pull-in Operations

Mooring Installations, including Drag Anchor Installation, Chain Handling and Anchor Handling Operations

 

Lifting Operations, Onshore & Offshore

Multicat Specialised Operations

 

Deck Planning, Storyboarding, Site Plans, Lift Plans

Rigging Calculations

Bollard Pull Calculations

 

Buoyancy Bag Installations and Operations, including Towing with Buoyancy

 

Dry Docking
Memorable project
One of Jake's most memorable projects was the Viking Link Cable Pull-in for Prysmian in Spring 2022.  
The Pull-in was a shore landing of a HVDC cable bundle with 2x 150mm DC Electrical Cable and a Fibre Optic Cable. Jake led the engineering for the project as the sole Project Engineer, delivering all Method Statements, Storyboards, Site Plans, HSE Deliverables, Risk Assessments, As-Built Reports, Equipment Specifications and many more. Within an exceptionally short timescale, the project started in late January 2022 and the Pull-in was completed end of March 2022, the engineering was delivered to allow the operations to be planned and accepted by all parties.  
HIRA presentations were led by Jake with interface to various stakeholders including Prysmian, Energinet, National Grid, Red Penguin and others. Throughout the project, Jake liaised with Client Reps and MWS to maintain product and operation safety, attending On Site for the duration. Ensuring, with a talented Operations Team, that the shore landing was completed in a slick, safe and efficient operation, with high customer satisfaction. 
Outside of work
When not at his desk or at site, you will likely find Jake in the crystal blue waters of West Cornwall, where he lives. As long as there is swell, Jake will be in the water! When the waves aren't working, he will be outside exploring the Cornish beaches and coves, swimming and diving. 
Jake enjoys travelling, having spent over a year going through Asia with his partner and recent journeys around Europe & Africa. Finding and experiencing new cultures and ways of life stimulates him and enables him to build empathy and an understanding of different viewpoints and lives.