Tadek was founded in 2010, by Rupert Raymond and we have since grown to a team of almost 30 professionals including Naval Architects, Installation Analysts, Project Engineers, Design & Structural Engineers, Project Managers and business support staff.
In the context of cementing our positions as leaders in complex analysis and professional solutions, the time had come to refresh the Tadek brand. With our aim to develop a contemporary look and feel, that reflects the aspirations and expertise of the team and company.
A contemporary new brand for Tadek Ocean Engineering
We have been working hard on this project behind the scenes over the last few months. Defining and refining the next phase of our organisation, considering the value that we bring to the projects that we work on and how we want to present ourselves to the outside world.
Rupert Raymond, Tadek's founder and Managing Director, explains the purpose and progress of the project:
Our new brand is professional, bright, energetic and dynamic, better reflecting our company values. 
We're extremely proud of what we have achieved since founding the company in 2010 and our first project installing the world's first commercial scale subsea tidal device. It was becoming increasingly evident that our old brand was no longer reflective of our reputation as market leaders in complex analysis and professional solutions to a range of the most prestigious projects and clients in floating wind, fixed wind, oil and gas, and MRE. It was time for a fresh look.
We are delighted with the outcome of the branding process which, in our usual collaborative style, has involved the whole team. Our new brand is professional, bright, energetic and dynamic, better reflecting our company values.
The whole Tadek team have worked so hard on this at an already busy period for us. With particular thanks to Scarlett and Liz for embracing this project from day one, as well as the tenacity and professionalism of our agency Mzuri for their support in developing and rolling out our new brand, website and marketing.
R Raymond, Managing Director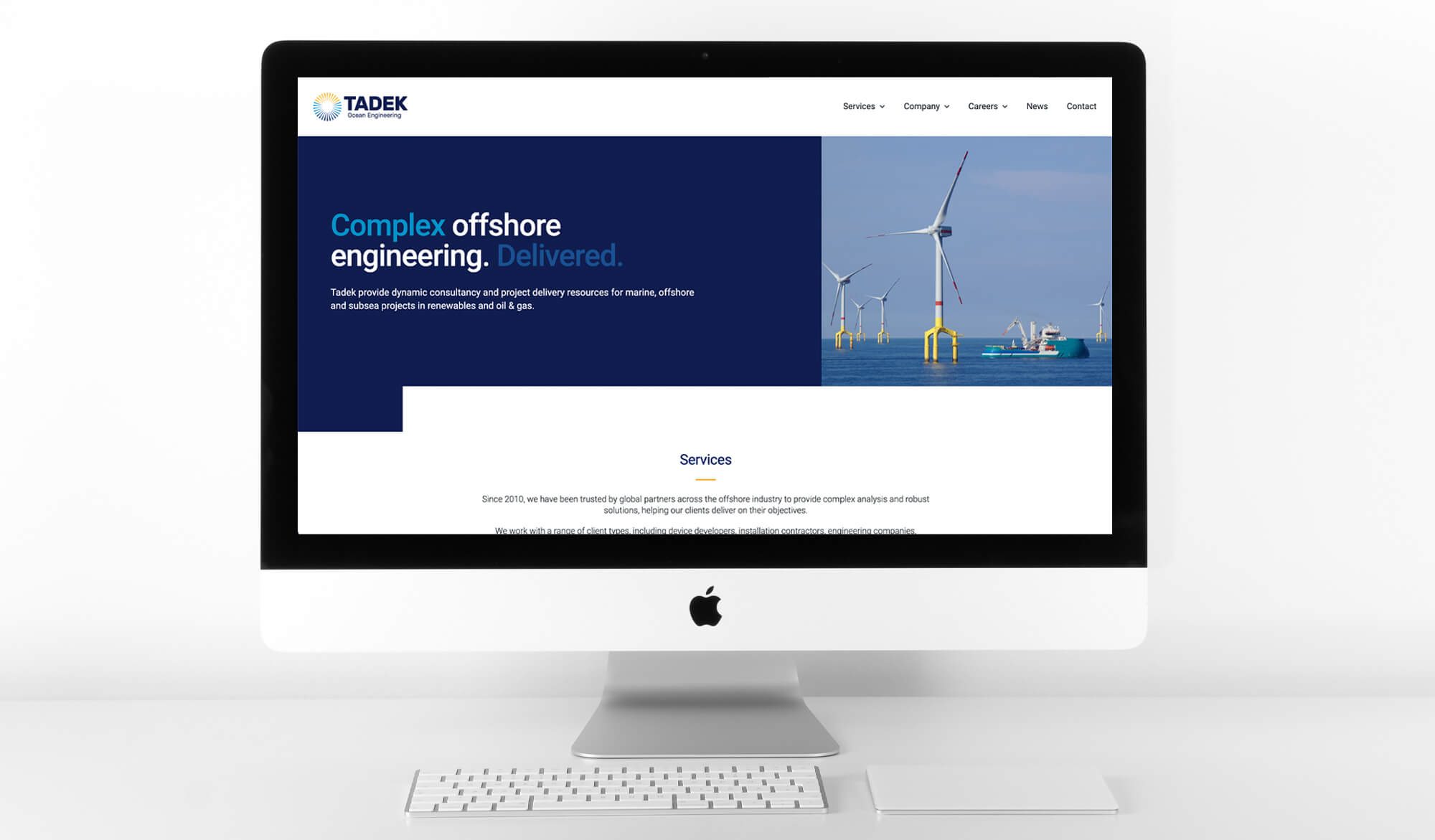 Continuing to evolve and develop
The work on our website and our communications will continue to evolve over the coming months, as we refine and elevate our position in the market, to demonstrate Tadek's capabilities and impact. We look forward to sharing more with you soon.
In the meantime, you can explore our new website, including our key services, careers, our graduate programme, news, and, of course, getting to know the team. You can also keep in touch with developments at Tadek on LinkedIn.